Recipe
Grilled Spare Ribs with Spicy Miso Sauce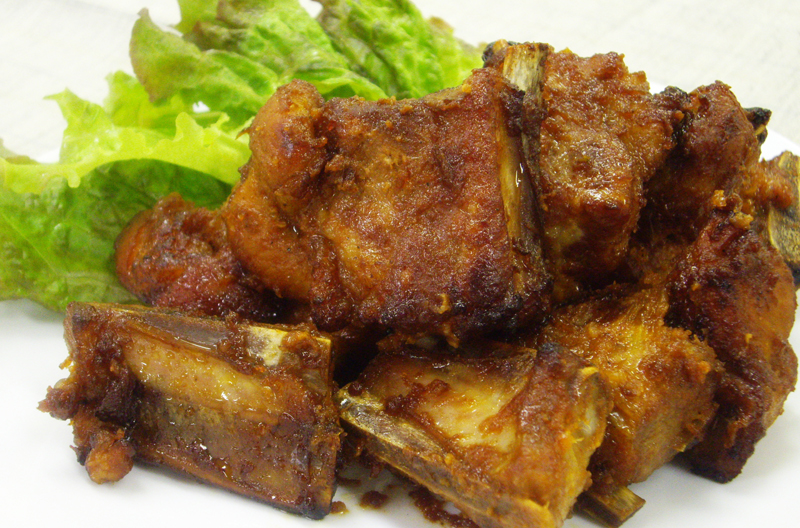 Ingredients: Serves 4
1 kg spare ribs
Spicy miso sauce
2 tablespoons kome (red) miso
2 tablespoons gochujang (a savory and pungent fermented Korean condiment)
2 tablespoons soy sauce
2 tablespoons sugar
2 tablespoons sake (rice wine)
Pinch of pepper
1/4 onion, grated
1 garlic clove, grated
15 grams fresh ginger root, grated
Directions
Prick the spare ribs with a fork over their surface to allow the sauce to penetrate into the meat.
Prepare the spicy miso sauce in a plastic bag and marinate the spare ribs in the bag for 2 hours, turning several times.
Preheat the oven to 200 degrees Celsius.
Drain off the excess miso sauce, and retain it in a bowl or dish. Place the spare ribs on the grill with the bones facing downward and leaving a space between individual pieces.
After grilling for 15 minutes, baste evenly. Continue to grill for an additional 5 minutes.
Miso Keema Curry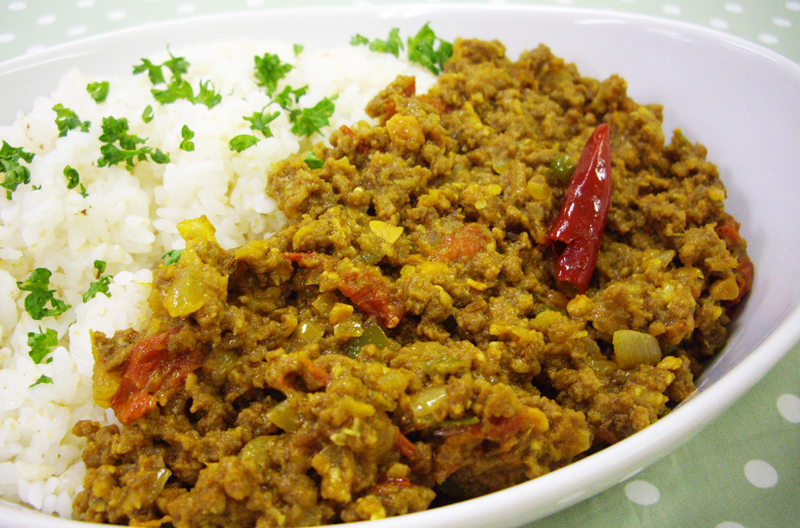 Ingredients: Serves 4
400 grams minced beef
1/2 onion
10 grams fresh ginger root
1 garlic clove
1 tomato
1 bay leaf
1 red chili pepper
A
1 teaspoon ground cumin
1/3 teaspoon chili powder
2 teaspoons curry powder
Water as needed
2 teaspoons - 1 tablespoon Johsen Sendai Miso (kome miso)
1/4 teaspoon salt
2 tablespoons oil
1/2 teaspoon fresh ginger root, grated
1/2 teaspoon garlic, grated
Directions
Finely chop the onion, fresh ginger root, and garlic. Dice the tomato.
Heat the oil in a saucepan. Sauté the fresh ginger and garlic until fragrant, and add onion and sauté until golden brown.
Add the bay leaf and red chili pepper to add fragrance and a hot flavor.
Add the spices marked "A" and sauté until fragrant.
Add the minced beef and stir-fry. Add the tomato and just enough water to barely cover the ingredients.
After boiling, cook on a low heat, and continue stirring until thickened.
Add the kome (red) miso, grated fresh ginger root, grated garlic, and bring to the boil. Add salt to adjust the flavor.
Miso Soup with Clams and Vegetables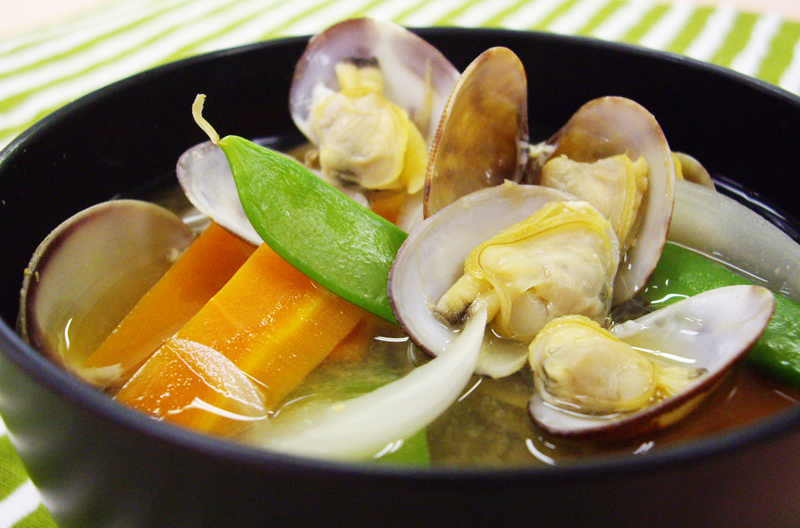 Ingredients: Serves 4
200 grams clams
40 grams carrot
50 grams onion
40 grams snow peas
3.5 cups Japanese soup stock
3 tablespoons Johsen Sendai Miso (kome miso)
1 teaspoon butter
Directions
Soak the clams in salted water for 4 to 5 hours in a dark place to allow them to release any sand. Wash and clean the clams. Cut the carrots into thin strips. Slice the onion thinly. Remove strings from snow pea pods on both sides and cut them in half.
Pour the Japanese soup stock and clams in a pot and boil. After boiling, add the carrots and onion. Skim off the scum.
Add snow peas and kome (red) miso and dissolve it into the soup. Finally, add the butter.
ジョウセンはほんものひとすじ。伊達政宗公の頃よリ受け継がれた伝統の技術と、東北の豊かな風土が生み出す自慢の味、「本場仙台みそ」を皆様にお届けします。